Core Web Vitals does not show data for desktops and mobile devices in the Google Search Console. Why? What should I do??
Recently, I've been receiving requests from clients with similar questions and issues related to Core Web Vitals and Google Search Console reports. Their main questions go something like this: Why is the number of URLs in the Core Web Vitals report decreasing? Help, my Core Web Vitals mobile metrics have suddenly disappeared. Why are not all indexed pages showing up in Core Web Vitals reports? How can I fix this problem? I would like to note that there have been no changes made to the site in the last few months.
For all clients with this problem, the Core Web Vitals chart looks something like this: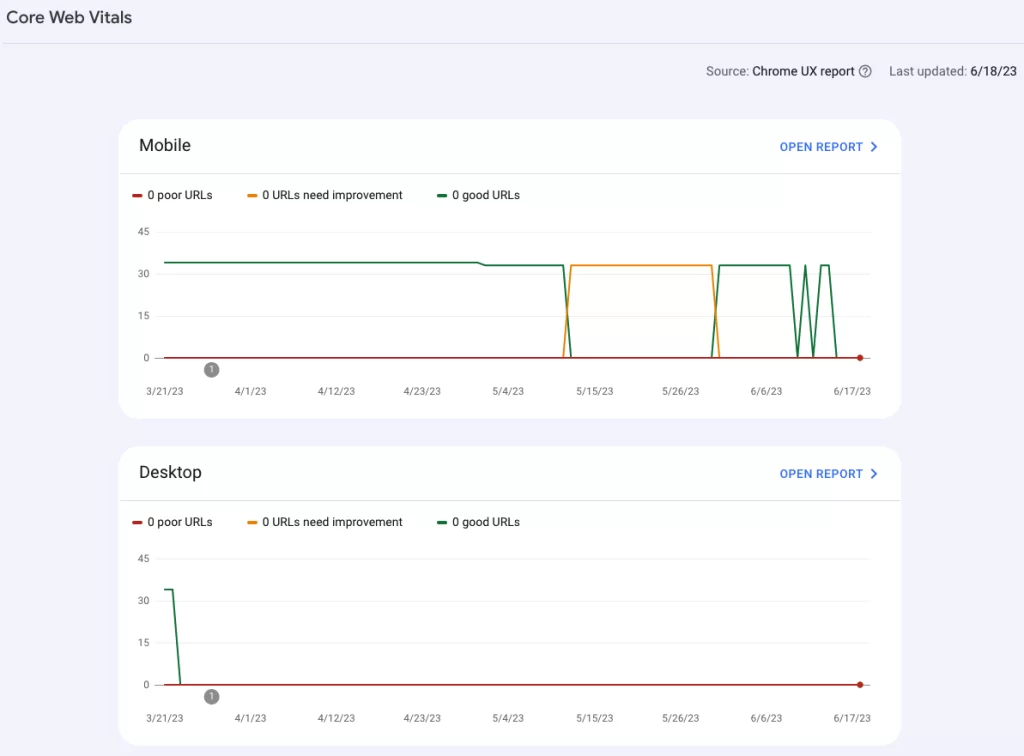 To start, I check a few sample pages for correctly working optimization and do some tests in Google PageSpeed Insights. If the speed optimization works fine, then I ask to check the Google Analytics graph to exclude a drop in traffic. If all is well, I ask the client to wait a few days and then usually the data automatically returns to its place:)
Core Web Vitals collects data and displays metrics based on the Chrome UX Report. This report is compiled from data recorded in actual sessions of Google Chrome browser visitors to the site. Therefore, the data in Google Search Console reports will show up if your pages are visited by real users. However, keep in mind that not all users will submit data to Chrome UX Report (depending on browser settings). So for you to see the data in Core Web Vitals metrics you need not only visitors but a sufficient number of "right" visitors.
A list of the main causes of failures in the Core Web Vitals report
Temporary problems with Google Search Console data.
Google Update.
You have less traffic. You can check Google Analytics data. If there is no significant change, then see the point below.
Not enough real visitors who agree to synchronize their browsing history.
Summary
If you notice a drop in the number of URLs reported by Core Web Vitals and your optimization is working properly, it does not always mean that there is a problem with your site. If this is the case, check your optimization and Google Analytics data. If your checks don't find a reason for the drop in Core Web Vitals metrics, it means that you didn't get enough "right" visitors. Keep improving your site, publish quality and unique content, and everything will get back to normal in a short time. Good luck!
Sources:
https://developer.chrome.com/docs/crux/
https://support.google.com/webmasters/thread/163211545/disappearing-urls-in-core-web-vitals-report-of-google-search-console?hl=en
https://support.google.com/webmasters/thread/98505732/web-core-vitals-for-mobile-sudden-drop?hl=en
https://support.google.com/webmasters/thread/207780574/sudden-drop-in-mobile-core-web-vitals-all-impression-gone?hl=en
https://support.google.com/webmasters/thread/103929703/about-mobile-core-web-vitals?hl=en
https://support.google.com/webmasters/thread/72263536/suddenly-drop-in-number-of-website-pages-in-core-web-vitals?hl=en